Faculty and Qualifications
David Doriguzzi, Physician's Assistant (PA)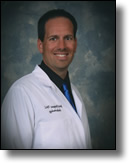 David Doriguzzi, PA-C is a board-certified Physician Assistant with 10 years experience in internal medicine and endocrinology. He completed his bachelor's degree in biology at California State University San Bernardino in 2000 and completed his Masters degree in physician assistant studies at Loma Linda University in 2002. He began his medical career as a phlebotomist and has served in a variety of hospital, clinic, and rehabilitation center settings in the Inland Empire. He is our Program Director and has been an instructor with Wagner Training Institute, Inc. since 1998.
Lisa Barnes, Certified Phlebotomy Technician (CPT1)

Lisa Barnes attended Chaffey College in 1986 and received a phlebotomy certificate. She has experience working with various hospitals and laboratories in the Inland Empire. She updated her phlebotomy certificate in 2003, receiving her CPT1 from the State of California. She currently is an instructor with Wagner Training Institute, Inc.